Effective immediately, ZAHORANSKY and KOCH have agreed to work closely together in the blister packaging sector, in terms of both technology and sales. This new cooperation focuses on providing sustainable, environmentally-friendly packaging solutions in the personal care sector. To achieve this, the KOCH model series KDT and KBS will be integrated into the ZAHORANSKY portfolio, while the ZAHORANSKY Z.PACK 4 | 5 machines will be available from KOCH.
This combined portfolio will provide comprehensive market coverage for the demand for plastic and, in particular, mono-material cardboard blisters in the personal care sector. From the customer's point of view, all packaging requirements can now be fulfilled, as Robert Dous, Managing Director of ZAHORANSKY Automation & Molds and Chief Sales Officer of ZAHORANSKY GROUP, confirms:
"KOCH and ZAHORANSKY are a perfect match. From the first idea to the implementation of this cooperation, we worked together in a spirit of trust and with the same objectives."
Harald Jung, Chairman of the Management Board and CEO of KOCH Pac-Systeme GmbH, is also pleased with the cooperation, adding:
"We are proud that ZAHORANSKY has chosen our technologically-leading product range. This offers the best solution to meet current and future environmental, climate, and sustainability challenges."
Customers from the personal care sector will benefit from the new cooperation on two levels: With KOCH, they have at their disposal the industry benchmark for sustainable, sales-enhancing blister packaging solutions. ZAHORANSKY, on the other hand, is the leading supplier of manufacturing systems for the automated and highly efficient production of toothbrushes and other personal care products. Their joint competencies in the areas of application technology and automation are now being combined in a way to meet every need, both in terms of products and packaging. Harald Jung adds: "The two companies' cultures, technological competencies, and customer orientation are both exemplary – exactly what customers expect from successful market leaders from the Black Forest."
Sustainable packaging is trending – ZAHORANSKY can now provide full coverage of the increased demand for mono-material cardboard blisters with the cutting-edge technology of KOCH's machines. As the respective technologies are technically aligned, integration into either existing or new manufacturing systems is seamless. Robert Dous sees further advantages in the cooperation: "KOCH is also the perfect partner for us from a technical and commercial perspective. They have a modern, and extensive product range that offers suitable solutions for environmental, climate, and sustainability challenges. In order to reach this level in blister packaging machines for mono-material cardboard packaging, we would have had to invest heavily in development. We can now use this capacity for our core business areas."
The KOCH KDT model series at a glance
The KDT turntable machine is particularly suitable for the cost-effective packaging of consumer goods in small to medium sized quantities. The standard version includes a turntable with four sealing tools and a sealing unit for thermal sealing. As a GMP-compliant turntable machine, the compact KDT "medplus" system can also be used for sensitive products in the healthcare sector. Depending on the packaging material, shape, and sealing time, the system has an output of 12 strokes/min.
The KOCH KBS model series at a glance
When you need maximum flexibility in terms of material, format, and batch size, KBS is the model series of choice. The sealing pallets of the KS-PT and the KBS-PT blister machine can be changed in no time. When switching formats, only the individual format parts need to be changed, not the complete set. The KS-PL sealing machine and the KBS-PL blister machine with linear pallet transport are particularly efficient at packing long runs of the same or similar products. In addition, the environmentally friendly cyclePac single-material packaging with 100 percent reusability can be used with the KBS-PL and KBS-PT. For the highest possible flexibility, the KBS-KF cannot be beat. It packs a wide variety of products as hard blisters and soft blisters consistent high-level performance.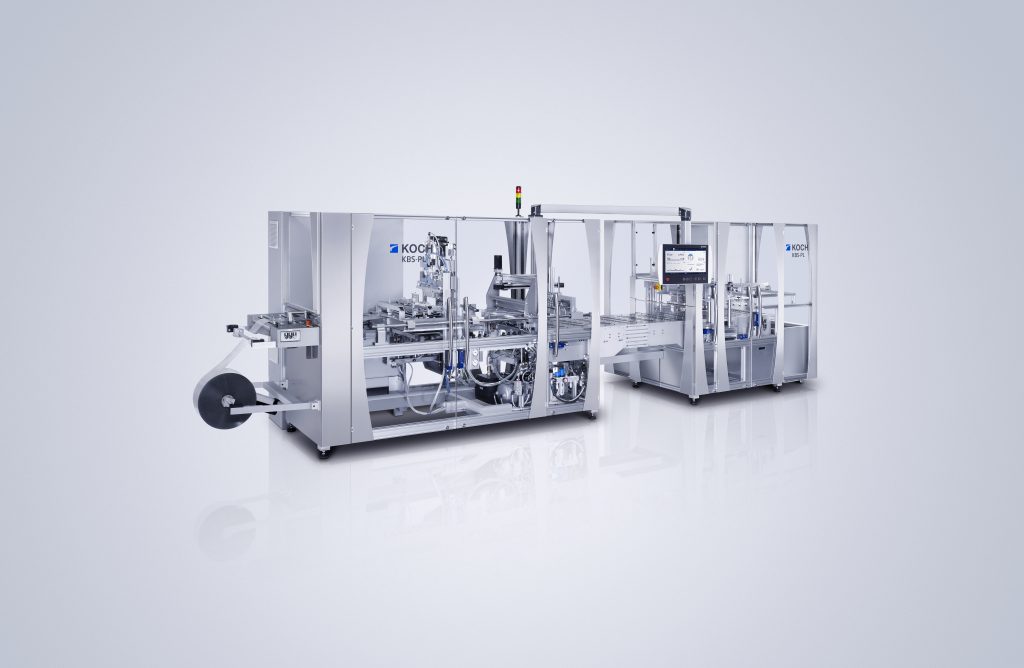 ZAHORANSKY Z.PACK 4 | 5 packaging machines at a glance
The Z.PACK 4 | 5 packaging machines are suitable for all standard complete blisters. Thanks to their modular design, companies can enjoy a particularly high degree of flexibility in blister design, such as labeling on the front, perforation, embossing, printing, and more. Semi and fully-automatic options for product infeed ensure high machine performance and efficiency. In addition, the touch-free infeed reduces the error rate and machine downtime. Planned changeover times can also be significantly shortened thanks to the integrated ERCO (Ergonomic Rapid Change Over) functions. The cutting tools are highly durable and are also compatible with all Z.PACK machines. The Z.PACK 4 | 5 can be used in a wide variety of applications, from being used as a stand-alone machine to being integrated into fully automated packaging lines. PVC, PET, or PLA film can be used as forming materials while cardboard, "Tyvek", aluminum, PET, and PVC film can be used as cover materials.